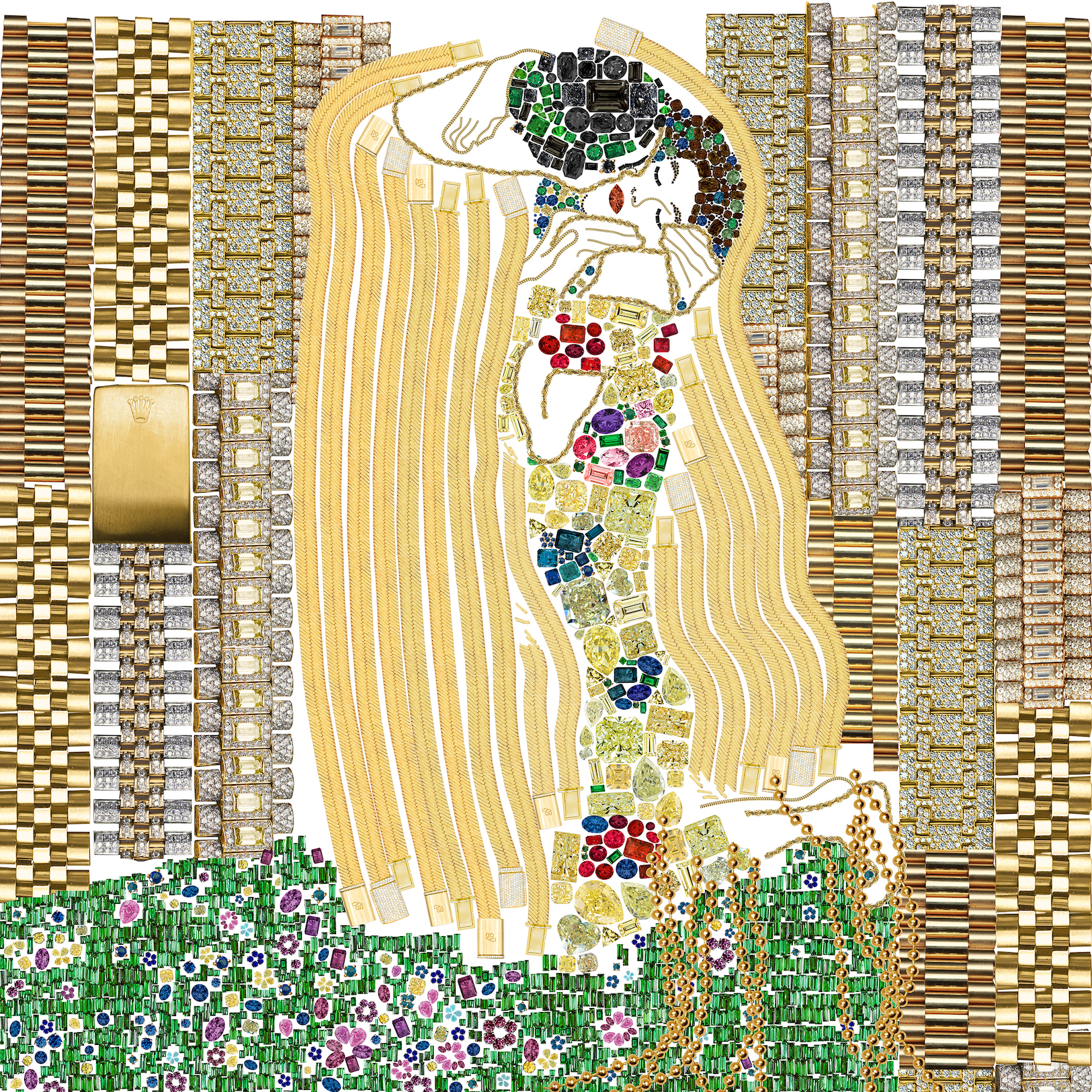 Goated Masterpieces Vol. 1
The conception of Goated Masterpieces Vol. 1 began at the Greg Yüna office in the NYC Diamond District when Yuna challenged his creative partner, Rachel Goatley, to recreate Vincent Van Gogh in their own distinct "goated" style. Rachel began integrating Yuna's timepieces, tennis chains, loose diamonds, cuban links, rings, and precious gemstones. Shortly thereafter, Yuna and Goatley expanded the concept of remaking fine art with fine jewelry and countless hours later, this series was born.

Truesy's Take
"Off the neck and onto the walls" Greg Yüna is redefining the intersection between fashion, jewelry and art.
Yüna and his collaborator Rachel Goatley have developed a technique in which she "paints" with Yuna's gold chains, and uses loose diamonds, gemstones, pendants, rings, timepieces, and anything else Yuna owns to compose her intricate artworks
From the mixed-media of jewel pieces to the digital canvas of NFT's, Yüna and Goatley provoke a conversation around the value of art.
With Truesy's first ever release, we look forward to rewarding and unlocking future experiences for Collectors of this collection.

Behind the Greg Yüna Collections
Greg Yüna is a luxury jewelry brand founded in 2017 by prominent NYC jeweler, Greg Yuna. Yuna's creativity and unique aesthetic drive the design direction of the company's contemporary collections of precious jewelry, apparel, accessories, and artwork. As a multi-hyphenated creator and thinker, Yuna pushes the boundaries of art by translating his creations from around the neck to on the wall -- and now to NFTs.

His creative partner, Rachel Goatley, is a graphic artist who interprets Yuna's jewelry designs into digital and canvas forms. Using the finest jewelry in the NYC Diamond District, Goatley constructs impossibly intricate artworks that depict anything from human body parts to hundred dollar bills, all out of jewelry created and owned by luxury jeweler, Greg Yuna. Together, they are approaching NFTs as new space for the artistic expression of the Greg Yüna brand.